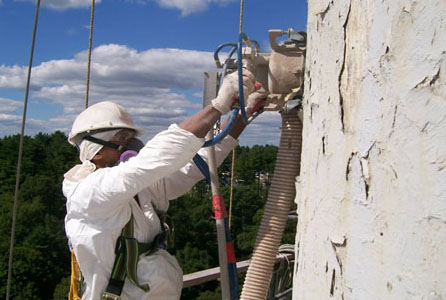 Asbestos Mitigation
Asbestos mitigation (known also as asbestos abatement) is a process of removing products containing asbestos, found in homes, public building and even office buildings. Asbestos was commonly used in building materials during the last century. Up to about a quarter of a century ago, most people didn't even know that it was dangerous. It wasn't until construction workers and people who worked closely and often with asbestos-containing material began falling sick with fatal illnesses that people began to understand the hazard associated with this product could cause.
Ever since this discovery, building laws have become more particular about dealing with asbestos in construction, and nowadays you can hardly find this material in construction. However, there is still the issue of removing asbestos from buildings already built before.
Asbestos removal is a dangerous activity. Inhaling the fibers can cause fatal medical conditions, including lung cancer, asbestosis and Mesothelioma. When removing asbestos, it's important to research the appropriate removal process to ensure the safest way to reduce any risks to your health due to fiber inhalation.
The Removal Process
When dealing with asbestos removal, it is imperative to take note of the varied health hazards and protection precautions that need to be implemented. This is why only a certified asbestos remover should handle this.
While knocking a building down or constructing one, you may come across the presence of asbestos. There are some helpful options to dealing with this. Keep the areas closed up if it has not yet eroded and place labels cautioning anyone who may come into contact with the area. Make sure the area is properly cordoned off, get in contact with an expert asbestos remover and take quick steps to eliminate the hazardous material immediately.
During the process of removing the asbestos, there are vital steps that should be taken. These steps follow industry-set regulations and must be observed with incredibly precise detail:
Make sure the asbestos is moistened before being removed as this prevents it from collapsing while being handled
Once moistened, collect it and put it into industry-regulation certified containers
     Clearly marked with the contents of the container
Remove the containers from the area by designated transporters and ensure EPA certified disposal methods are practiced
Finally, clean out all areas that may have come in contact with the asbestos
If you have an inclination that your home or building project may contain asbestos it is top-priority that you have the area examined by an experienced professional with the intention of clearing it immediately. There are plenty of debris elimination companies out there, but before you hire one check out their qualifications and ensure that they are qualified to handle such tasks. This includes asking them of a list of asbestos removal jobs they have done in the past and whether there have been any complaints, mistakes or errors while doing these jobs.
Associated Health Risks
Due to the dangers of asbestos removal, it is important to place caution signs all throughout the removal process and area of contamination. Air-conditioners, heating systems and other built-in home mechanisms must be shut-down at all times throughout the procedure. The reason for this is simply to avoid stirring up any toxins in the air. Also, all areas that are being cleaned out must be concealed from the general public until it is declared asbestos-free. The elimination procedure must follow strict decontamination procedures, and that is why this dangerous task must only be done by experts who are prepared and understand any and all necessary steps that must be taken to ensure the safety of all.
Asbestos poisoning is not to be taken lightly. The last thing you want to do is risk your life or the lives of others. Just because the impact of asbestos poisoning is not immediate, doesn't mean that they aren't toxic nonetheless. What's worse than getting a fatal illness by asbestos inhalation is the excruciating pain and suffering it brings. Therefore, if you suspect that there may be asbestos present in your surroundings, get an expert to come in and investigate. It is better to be safe than sorry.